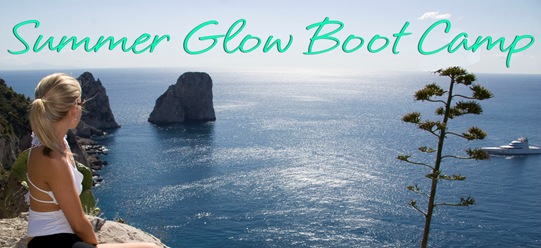 I am a little late to the party with this one but I am jumping in! This boot camp isn't focusing on changing your measurements or lowering your wait. The point of it is health and finding your inner and outer glow through treating your body right. I am down with that! It's all about being positive.
Holly was posting about the Summer Glo Boot Camp on her blog,
Holly on the Run
, and I had to check it out. So I trotted on over to
Oh She Glows
and was hooked after reading all about the boot camp. I couldn't resist something so body positive!
I do have some catching up to do, so expect to see some challenge-related posts this weekend.
I added a SGBC widget to my sidebar, so click on that if you're interested in it! (Somehow I messed up my Daily Mile widget in the process. Despite copying over the html text for the DM widget and replacing it, I can't seem to get it fixed. Silly widgets!)
In other news, I was very surprised this morning when I took my weight and measurements. My weight was down (nearly a pound) and so were almost all of my measurements. I was surprised by this because I haven't been eating very well this week (Did anyone notice I never posted a Food Log post? I haven't been keeping track of my eating at all. Oops.) and I only got in maye 2 workouts this week. Maybe my body needed the rest?
I've also decided to go with the
Jeff Galloway training program
to help me train to run a 5K. I think it suits me better. I am going to jump in at week 9, so I'll be doing 3 miles tomorrow. I'm not intimidated. I know I can do it.